We Rent Knee Scooters
Ideal for individuals recovering from foot surgery, breaks, sprains, amputation, and ulcers of the foot.
Knee walker can be steered for increased maneuverability
Steering column folds for storage
Leg pad with "channel" provides added stability and comfort
Tool-free height adjustment of seat and handle
Rental rates
30.00 per day OR
100.00 per week
rental deposit is required
Call 604-533-1041 to check availability and reserve your knee scooter
A Knee Scooter can also be purchased in-store. Call us for details.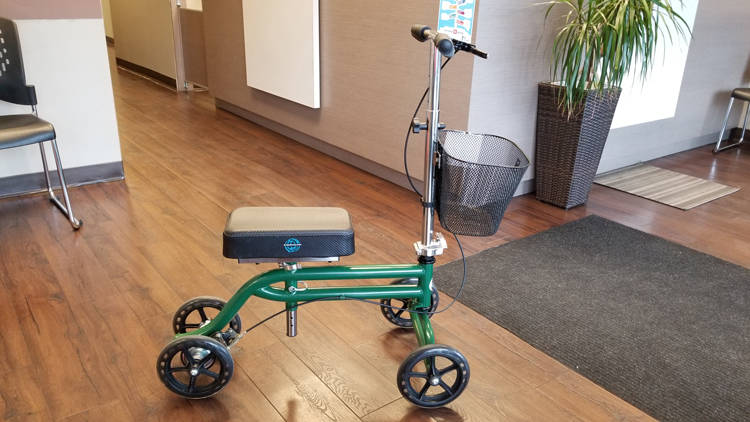 ---
Knee Scooter Benefits
Scooter delivers one of the best knee walker values in the industry and is ideal for individuals recovering from a broken foot, broken ankle, broken leg, foot surgery, ankle surgery, leg amputation, other lower leg injuries or medical conditions.
Excellent Crutch Alternative: More comfortable and stable than crutches, knee walker is made for both indoor and outdoor use, with four wheels for easy steering and balance.
Stability and Control: These easy to maneuver steerable knee scooter walkers feature four rubber wheels
Fully Adjustable and Compact: The Economy Steerable Knee Scooter also features handlebars with a quick release folding mechanism for easy transport and storage. Kneewalker has handlebars and padded knee platform that easily adjust for a comfortable fit. Remove basket to work at a counter to work in the kitchen or personal care in the bathroom.