Nature's Aid skin gel stimulates blood circulation which helps relieve sore muscles while penetrating the lower layers of the skin with anti-inflammatory and analgesic (pain killing) qualities.
Nature's Aid skin gel has been perfectly formulated to accelerate the healing process and provide soothing relief for most skin conditions caused by bacterial, fungal, parasitic and viral infections.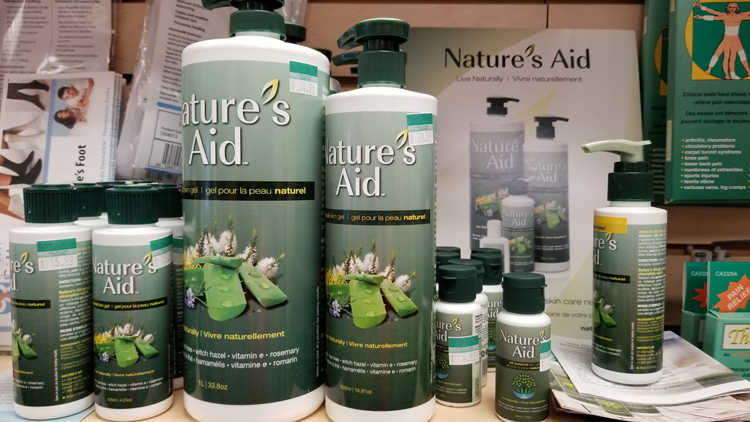 ---
Whether you are prone to dry skin, acne, cold sores or cellulitis, or regularly deal with eczema, rosacea or psoriasis, Nature's Aid skin gel is an effective option for all these common skin occurrences as well as many others.
Our five core ingredients work together to soothe the skin, provide moisture and hydration, as well as penetrate the many layers of the epidermis to reduce inflammation, stimulate cell renewal and growth, as well as offer analgesic (pain killing) properties.
Nature's Aid skin gel will take care of just about all your skin care needs:
Acne
Hives
Rashes
Eczema
Chaffing
Dry skin
Shingles
Cellulitis
Rosacea
Psoriasis
Heat rash
Cold sores
Athletes foot
Nail infection
In-grown hairs
Chicken pox
Allergic skin reactions
And so much more
As an aloe-based product, it's natural for people to assume our skin gel is for sunburns and bug bites (which it is). However, aloe is only one of five core ingredients. The aloe vera, witch hazel, tea tree, rosemary and vitamin E in our skin gel work together to create an all-encompassing, one product so many uses, formula for skin care.
Questions? Call our Surrey Pharmacy now and we'll be glad to help you: 604-533-1041.