DermaSilk Therapeutic Clothing
DermaSilk is a line of light ­weight medical grade silk therapeutic undergarments clinically proven for use as non-­pharmacological therapy and worn as a protective treatment for various forms of atopic (allergic) dermatitis (AD) and other allergic skin conditions that affect different areas of the body across all age groups.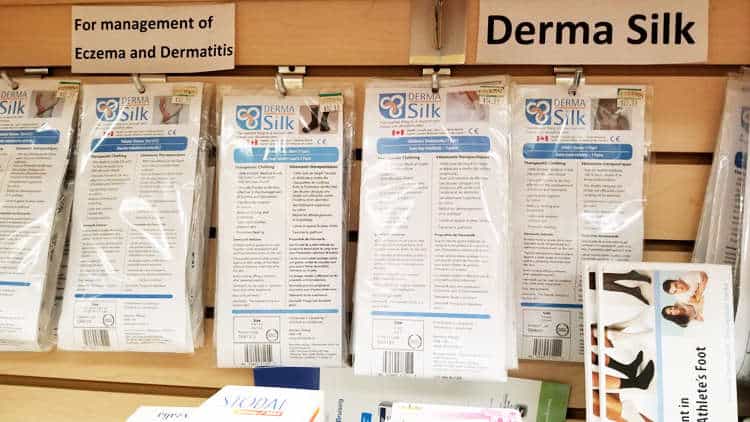 ---
Used both as undergarments both day and night DermaSilk fabric allows the skin to breathe and controls temperature and humidity – reducing itch and offering the daily comfort your skin deserves.
DermaSilk Therapeutic Clothing is intended to be worn continuously to help manage sensitive skin conditions and does not replace conventional treatment but is easily used alongside them.
DermaSilk Uses
DermaSilk clothing is helpful in controlling symptoms related to:
Atopic Eczema
Lower Leg Conditions
Contact Dermatitis
Thrush
Jock Itch
Vulvodynia
Lichen Sclerosus
Menopausal Symptoms
Chemo and Radiotherapy
Have questions and want to know more? Call now to speak to someone at our Surrey Pharmacy: 604-533-1041
DermaSilk clothing is available in-store, and can be special ordered in for you.