Did you know that many people suffer from sinus problems year-round? Symptoms such as facial pain, headaches, chronic cold, and constant low-grade congestion are not limited to just the colder months.
HoneyDoc Nasal Rinse
HONEYDOC® Nasal Rinse can help to relieve pain by reducing inflammation and by stimulating the growth of tissues needed to aid in the healing process. HONEYDOC® is uniquely prepared to be used to rinse the nasal sinuses, allowing for better and faster results than the more common oral and topical solutions.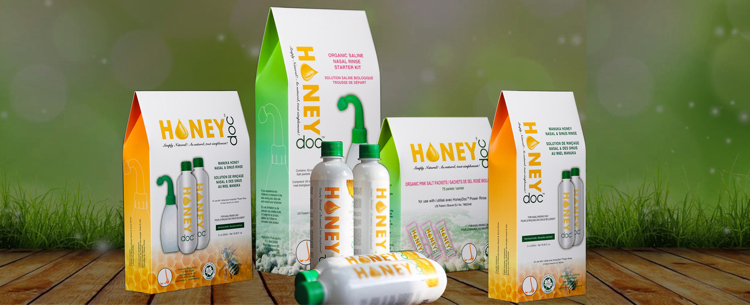 ---
HONEYDOC® Nasal Rinse is an effective alternative to conventional saline sinus rinses. Especially in patients with chronic sinus infections or who have been suffering a sinus infection that seems resistant to oral antibiotic therapy.
Manuka Honey Nasal and Sinus Rinse is a 100% organic solution to sinus irritation brought on by allergies, chronic sinus conditions, or cold and flu. The PowerMix is made of organic Manuka honey and non-iodized salt, which have proven antibacterial, anti-fungal, and anti-inflammatory properties. The kit contains two sterilized bottles for the solution, a rinse bottle and a syringe for easy delivery. The unused portions can be refrigerated for one month. This simple, natural, HoneyDoc product will bring long-lasting relief and renewed nasal health.
Ingredients: 100% Manuka honey, non-iodized organic salt.
HONEYDOC® products are available at our pharmacy. Please call or drop by today to purchase.