It is natural to feel a variety of emotions, such as stress and worry during this unprecedented time. The team at Surlang Medicine Centre Pharmacy is committed to not only your physical health but your mental health as well. The COVID-19 pandemic is continuing to evolve and our team is constantly assessing the situation. To help put our patients' worries at ease, we would like to be transparent about the adjustments we have made to our standard operations to increase your safety:
Cleaning and sanitizing
We have implemented enhanced daily cleaning procedures involving the disinfection of common surfaces and objects as the coronavirus may survive up to 4 hours on copper, up to 24 hours on cardboard, and up to 2-3 days on plastic and stainless steel. Staff is undertaking frequent hand-washing, hand-sanitizing and are wearing medical gloves as they handle your prescriptions. We also have a hand sanitizer station available for you as you enter, to limit the entry of germs.
We are practicing physical distancing and are limiting the number of patients in the pharmacy at a given time.
To ensure there is a 2 metre distance among patients and staff, physical barriers are set up at the pharmacy counter to limit the spread of infection. We are continuously screening for appropriate physical distancing and can control patient flow through our buzzer-operated pharmacy entrance door. We have designated areas marked with an 'X' on the floor to help enforce physical distancing.
Any questions regarding your prescriptions
If you are seeing your doctor for a prescription, ask if they can fax it or phone us rather than you having to go into the pharmacy. If you have refills left on your prescription and are running out of supply, call us ahead of time to avoid waiting in the pharmacy. If you have run out and have no refills, call us to see what the pharmacist can do to ensure continuity of your care.
Quick Facts About the Coronavirus (Adapted from the WHO)
What is a Coronavirus?
Coronaviruses are a large family of viruses that may cause illness in animals or humans.  In humans, several coronaviruses are known to cause respiratory infections ranging from the common cold to more severe diseases. The most recently discovered coronavirus disease COVID-19.
What is COVID-19?
COVID-19 is an infectious disease caused by the most recently discovered coronavirus. This new virus and disease were unknown before the outbreak began in Wuhan, China, in December 2019.
What are the symptoms of COVID-19?
The most common symptoms of COVID-19 are fever, tiredness, and dry cough. Some patients may have body aches, nasal congestion, runny nose, sore throat or diarrhea. These symptoms are usually mild and begin gradually. The majority of people recover from the disease without needing special treatment. However, around 1 out of every 6 people who get COVID-19 becomes seriously ill and develops difficulty breathing.
Older people, and those with underlying medical problems like high blood pressure, heart problems or diabetes, are more likely to develop serious illness. People with fever, cough and difficulty breathing should seek medical attention. It is important to remember that symptoms of COVID-19 may take up to 14 days to appear after exposure to the virus. Therefore, if you are not appropriately isolating at home, you could be spreading it to others without even knowing!
How does COVID-19 spread?
People can catch COVID-19 from others who have the virus. The disease can spread from person to person through small droplets from the nose or mouth which are spread when a person with COVID-19 coughs or exhales. These droplets land on objects and surfaces around the person. Other people then catch COVID-19 by touching these objects or surfaces, then touching their eyes, nose or mouth. People can also catch COVID-19 if they breathe in droplets from a person with COVID-19 who coughs out or exhales droplets.
Take Measures to Protect Yourself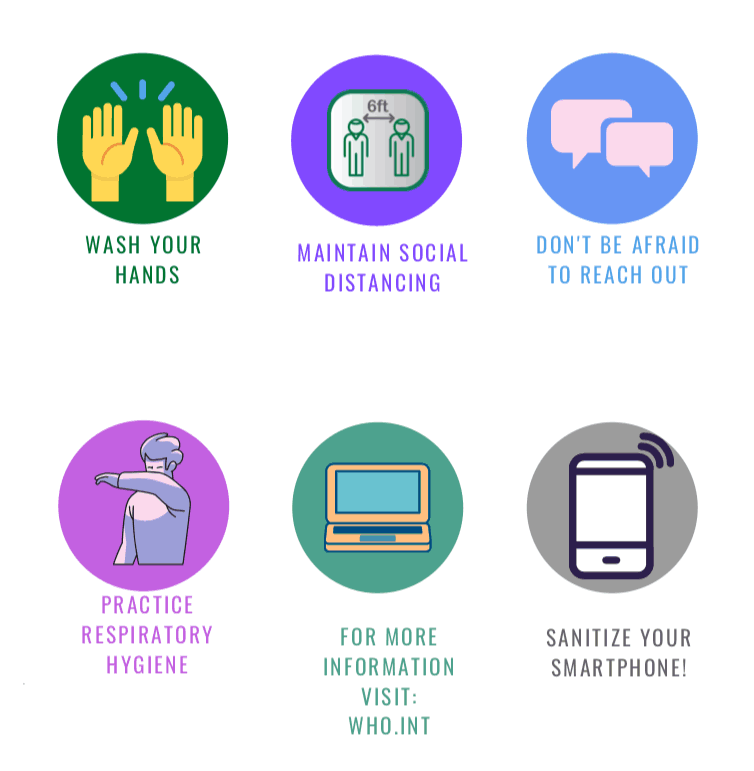 Wash your hands frequently

Regularly and thoroughly clean your hands with an alcohol-based hand rub or wash them with soap and water.

Why? Washing your hands with soap and water or using alcohol-based hand rub kills viruses that may be on your hands.

Maintain social distancing

Maintain at least 2 metres (6 feet) distance between yourself and others, especially someone who is coughing or sneezing.

Why? When someone coughs or sneezes they spray small liquid droplets from their nose or mouth which may contain a virus. If you are too close, you can breathe in the droplets, including the COVID-19 virus if the person coughing has the disease.

Avoid touching eyes, nose and mouth
Why? Hands touch many surfaces and can pick up viruses. Once contaminated, hands can transfer the virus to your eyes, nose or mouth. From there, the virus can enter your body and can make you sick.
Practice respiratory hygiene
Make sure you, and the people around you, follow good respiratory hygiene. This means covering your mouth and nose with your bent elbow or tissue when you cough or sneeze. Discard the tissue and wash your hands immediately.
Why? Droplets spread viruses. Following respiratory hygiene helps protect the people around you.
Stay Informed and remember your mental health matters

It's easy to get overwhelmed, especially when your routine has been changed. You may not be able to do activities that bring you joy, visit friends and family that matter the most to you, or now find yourself worrying about the health and safety of loved ones. Remember that even though you may not be able to see a loved one physically, you can still give them a phone call and reach out. Feel free to call us as we care about the well-being of our patients. If you're feeling tech-savvy, Anxiety Canada also has a free evidence-based phone application to help manage anxiety, worry, and panic. The app is available to be downloaded at http://www.anxietycanada.com/resources/mindshift-cbt/